What:
Welcome to our comprehensive course on guided dental implant surgery. Guided dental implant surgery leverages advanced 3D imaging technology to create a surgical guide, enabling the precise placement of implants in the jaw. This approach significantly reduces the likelihood of complications and allows for shorter surgery times.
Guided implant surgery is a crucial addition to any implant practice, and our course will equip you with the skills and knowledge to master this innovative technique. Our curriculum covers the principles of guided implant surgery, including treatment planning, surgical guide fabrication, and live surgical implant placement.
Our experienced instructors will guide you through hands-on exercises, including simulated surgical procedures on models and live patients to help you develop confidence in using guided implant surgery. Our state-of-the-art facilities and cutting-edge technology ensure that you will receive the best training possible.
Join us on this exciting journey to enhance your skills and expand your practice with guided implant surgery.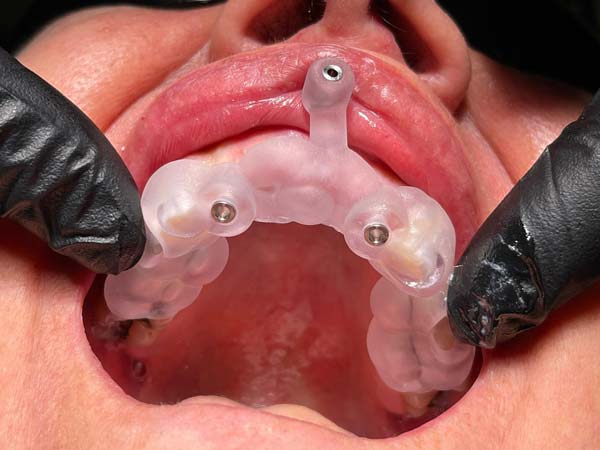 Location
Where:
Implant Education Company
12320 N. 32nd Street
Phoenix, AZ 85032
Cost and Registration
Course Fee: $4,950
CE Credits : 24
To Register: Visit https://www.implantedco.com/ or call (949) 257-5696
Additional Details
Day 1
Concepts in Fully Guided Treatment Planning
Review of Instruments, Consoles, and Materials Needed for Surgery and Creation of Guide
Inhouse vs. outsourcing guide options
Data Acquisition and File Uploads
Drilling Protocols for Guided Surgery
Bone Grafting for Immediate Guided Implant Placement Concepts
Soft Tissue Management for Optimal Surgical Outcomes
"Watch Out's" and Pitfalls During Guided Surgery
Day 2
Case planning with DTX software
Single, multiple, to fully edentulous options
Live demonstration of actions needed to create guide.
Multiple Implant placement on models
Advanced model drilling hands-on
Group discussion and review of best practices.
Day 3
Live Surgery
Case Review and Surgical Prep
Each Participant will place one fully guided implant and assist on several cases.
Step by Step protocol easily replicable to take back to practice
Observation of clinical techniques, tips and tricks from expert team mentors
Live Interpretation of CBCT data
Overview of days activities and recap
Faculty
Dr. Blake Adams
Implantologist
Dr. Blake Adams graduated from the University of Oklahoma College of Dentistry in 2008 and practiced general dentistry until 2018. During his time in private practice he spent time training with Dr. Arun Garg, the Spear Institute, and eventually completing a Masters of Implantology through UNLV and the California Implant Institute.
In 2018 he pursued advanced implant training by attending a 3-year implant residency program through Loma Linda University. During his 3 years he was able to study with some of the most well known and respected implantologists including Dr. Jamie Lozada, Dr. Joseph Kan, and Dr. Charles Goodacre. Dr. Adams served as the chief surgical resident from 2020 to 2021.
Since completing his implant residency Dr. Adams has become a speaker for Nobel Biocare with a focus on digital implant planning, full mouth reconstruction, bone grafting, basic to advanced implant placement, and implant prosthetics. He continues to teach at Loma Linda University in the Center for Implant Dentistry as a part time faculty member.
Dr. Adams maintains a private practice in Palm Desert California with a focus on implant dentistry, bone grafting, digital workflows, and comprehensive full mouth rehabilitation. When not practicing dentistry or teaching, Dr. Adams is an avid runner, triathlete, and endurance athlete. He has completed many marathons, including the Boston Marathon along with multiple half Ironman events and ultra marathons. He has been married for 24 years and is the father of 4 children.